Marlene Armstrong
Marlene Armstrong has had a passion for horses as far back as she can remember. She always knew that they were very special beings that could heal your soul and assist you in finding your true self. She immediately recognized Equus Coaching as a tremendous opportunity to help others and resolved to bring it to the Nation's Capital. Marlene owns Foxview Stables in Ottawa, where she offers Equus coaching to teams, executives and individuals.  Her 2 daughters, Jenna and Morgan, manage the daily operations of the boarding and horse training side of Foxview Stables.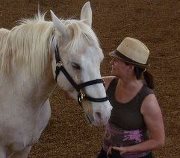 Marlene has an Honours degree – Bachelor of Commerce, with a concentration in Human Resources.  She has more than 35 years' experience in project management, leading inter-disciplinary teams, organizing major corporate events, coaching and team building. She is a certified Equus Coach, having completed Koelle Simpson's year-long program. Marlene's vision is to expand Equus Coaching opportunities throughout Canada.  She plans to transform Foxview Stables into a world-renown Equus Coaching Centre.  Marlene loves to work in a collaborative fashion and hopes to expand her services worldwide. Her desire to help her clients reach their true potential and find their 'essential self' is unsurpassed.
Seeing how much this is contributing to people's self-esteem and self-awareness is incredibly rewarding.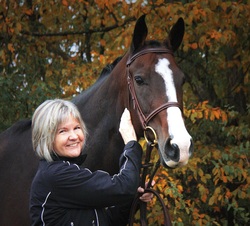 Maureen Donoghue
Maureen Donoghue's main focus for the last 30 years has revolved around helping others in their personal and professional development. She has taught with a separate school board, as well as designed, delivered and evaluated technical and professional development programs for the Canadian Federal Government. She also established a national network of organization development specialists and developed and implemented human resource strategies for wide-scale organizational transitions. Maureen also managed program evaluation and public opinion functions for a federal crown corporation.
Maureen is a strong believer that despite the challenges that an organization may face, when employees are empowered to learn, everyone benefits. Maureen's work has been recognized with multiple Federal Deputy Minister awards and more importantly, with the confidence shown to her by management and employees at all levels.
She has obtained a Bachelor of Arts in psychology and religion, a Bachelor of Education with a concentration in counselling and a Master of Education in educational counselling. In addition to travelling and reading, Maureen's passions include agility training for dogs where the learning opportunities are infinite!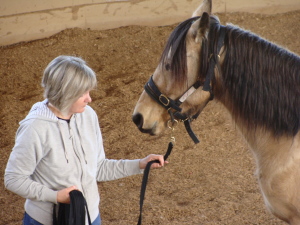 She discovered Equus Coaching in 2010 and was immediately inspired by its tremendous promise, particularly in terms of the nature's potential to assist in continuous learning and self-improvement. Maureen underwent a year-long training program with Koelle Simpson, a world renowned Master Equus Coach. Maureen has since been applying that training in the National Capital Region with her business partner Marlene Armstrong, and has never looked back. Maureen is particularly adept at putting people at ease, thereby creating a relaxed environment that is more conducive to learning and having a little fun.
 I sincerely feel this is something that people really want and need. The effects are immediate and lasting. It offers something beyond what is traditionally available. It transforms people.

Listen to this segment of an interview with Lynn Thompson from
Living on Purpose to hear all about our four-legged master coaches…