Corporate Leadership and Team-Building
Equus Leadership and Team Building
Ultimately, every person in your organization is a leader, which entails individuals being strong both professionally and interpersonally. From this strength, strong teams grow.
Every conversation, creates your culture and every conversation determines whether trust is nurtured or compromised. Without trust, risks are not taken, information is not shared and creativity is stifled. Such a culture does poorly with the ever-evolving and turbulent world of work.
After a decade of working with the horses, the Unbridled Coaching team has developed a Relationship Intelligenceᵀᴹ Model that gets to the core of building trust. One-thousand-pound animals, who are genius herd members are powerfully "convincing" in letting you know about your skill in this area, all without judgment.
Check out our Leadership and Team-Building Program. We offer a complimentary on-site needs discovery session and can customize the program to your organization.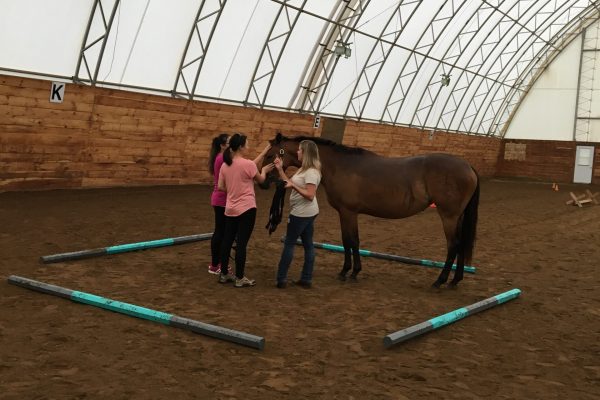 The Corporate Leadership and Team-Building Program
This Program is a great solution if your culture looks like this:
1. Blame is assigned when people make mistakes
2. Giving and receiving performance feedback is clumsy and met with defensiveness
3. High staff turnover with strong players leaving
4. Workload management creates stress and reduces quality
5. Resentments build without productive conflict resolution
6. Work is done in isolation with team synergies not realized
The Corporate Leadership and Team-Building Program can help your company:
We designed this program to allow each individual a one-on-one experience with the horse. The horse provides immediate feedback on the clarity of your communication and your ability to build trust. As well, we have exercises for teams to work together.  Again, the horses let the team know immediately just how effective they are in working together. Your learnings from these experiences translate into an action plan to ensure real change for your company.
Here is what our clients Are Saying
"Understanding the importance of animals in my personal life, the critical link between humans and animals and working for an organization that fosters the health of animals, people and the environment, the idea of undertaking an equine communication and leadership coaching session for staff made all kinds of sense to me. I searched online for the history and benefits of this type of coaching and understood some of the elements involved. But I was curious about actual benefits for my work colleagues and myself. I was not disappointed last September (2019) going through the exercises with the program horses and seeing the valuable feedback they can provide on an individual basis. Maureen and Marlene provided the group with the necessary guidance to safely interact with their horses then let us handle them in our own way. Some of the learnings coming from those interactions were insightful without being threatening. People could consider more effective ways to communicate verbally and through body language and take away some important life lessons. I want to thank the Unbridled Coaching ladies for an incredible experience and for bringing this very unique interpersonal perspective into our working lives!"
"To succeed in our industry, we need the courage to explore unconventional approaches to design, so trust is essential. Unbridled Coaching customized an Equus experience, which allowed me to witness the degree to which that existed within our team. Through our interactions, the horses perfectly mirrored the degree of confidence, clarity and communication we had with each other, and all in a nonjudgmental manner. I highly recommend this experience to any leader that wants to tap into and amplify the talents of their team."
contact us at 613-277-4402
To book your no-obligation Discovery Session to find out how we
can help your organization get fast insights and big results (just like the horses).