How the Passion-Play-Purpose Workshop Changed My Life!!
I grew up with horses and then married someone who was allergic to them. As a coach, I couldn't pass up the opportunity to attend an equine related coaching experience for myself. It was a life changing day. I remember driving up to the property and immediately breaking in to tears with the realization I needed horses back in my life. My purpose and passion work in the morning kept bringing me back to this message. Health…ride more; Balance…Ride more; Relationships…need to ride again; spiritual…definitely need to reconnect with nature; simplicity and yes, the way to do so was to ride more.
I went home that night after a powerful equine coaching experience and began searching "Arabian Horse for Lease". In no time, I was leasing a horse and back into training for long distance endurance rides.  After two months, I knew I needed my own horse again. With full support from my hubby (I just need to wash my clothes and shower upon returning from the barn), I am now proud owner of, a beautiful Bay Arab mare. We are enjoying a spiritual journey. In the past, I couldn't justify buying a horse with all the travelling we do. It wouldn't be fair to the horse. You can't park a horse like a bike until the next time you decide to ride. So, to further my results from the Equine Coaching day, I am now working only one day a week, while focusing on riding three to four days a week.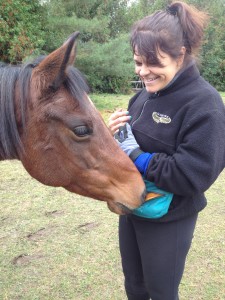 My other passion takeaway is that my ultimate purpose on this planet is to raise two happy healthy kids who have happy healthy relationships in their lives and grow up to do what they love and make a bigger difference. As my kids are now university age, I have more time in my schedule to say "Yes" when they need me. They are 18 and 20 and I am confident, this purpose is already in play. I get to enjoy regular "I love my life" moments because I have made such significant life changes. I refer to May 3rd 2014 regularly, the date I attended the Passion-Play-Purpose Equine Session–it was transformational!
Positively,
Pauline Fleming
Chief Inspiration Officer
ProActive Business Leadership