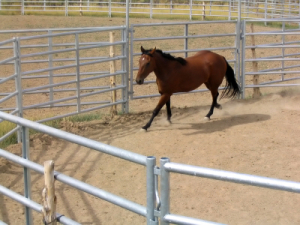 Lead Your Best Life
(Our Signature Workshop)
What's Your Story?
You want to change old patterns, you believe it can happen, you've done everything you can to force change to happen, but… It. Just. Won't. Happen. Aaargh!
"My job is a nightmare"

"My kids are out of control"

"Why can't I lose this weight?"

"This relationship is not working, what can I do?"
What's In It for You?
To identify what is holding you back
To know how to move forward
To breakthrough old patterns/ruts
What to Expect
In this one-day experience, you will learn to use your personal power in calm, intense, practical, and irresistible ways that close the gap between dreaming dreams, and seeing them come true. You will learn to:
Listen for your personal truth
Put a spotlight on crippling self talk
Go beyond the fear that keeps you stuck
Avoid getting entangled in others' business
Connect and recognize emotions in yourself and others
Embrace your future by living in the now
Horses have no judgement, they will lovingly and playfully assist you in understanding the messages you send to the world. Because they are prey animals, horses have developed an uncanny ability to detect emotions as a survival instinct.  As highly sensitive biofeedback agents they can reveal ingrained attitudes and behaviours that may be beyond your awareness but not others around you.
There is no need to have any previous horse experience. You won't be riding horses; you'll become part of the herd. So bring your hopes, a pair of comfortable shoes, and the desire to close the gap between wishing your world would change and becoming the one who leads your dreams into reality.
Space is limited (max. 5 participants).  Please reserve your spot early!
To reserve a spot, please contact us at 613-277-4402 or at unbridledcoachingmm@gmail.com.
Special Workshops
Your Lifetime Dream – Going For It! We are super jazzed to offer this Africa-inspired program. This is a two part program whereby you will spend a full day with 7 others to identify your lifetime dream, what is holding you back, and how you can achieve. And that is not all! We will then support you over the next 8 weeks with four 2-hour Equus Coaching session, every 2 weeks to ensure you don't fall back into your usual patterns and help you to build the roadmap to your lifetime dream! So get a group of 5+ (up to a max. of  8 – to keep it intimate) together and set your own dates.
Contact us at 613-277-4402 or at unbridledcoachingmm@gmail.com to reserve your spot.
*******
Master Your Mental Game of Golf… with horses! We've partnered with Dr. Emma J. Stodel to help you uncover your mental barriers on the course and play your best game more often. Sign up for this one and take control of your golf!  
Or get a group of 5+ together and set your own date. Individual sessions also available for golfers, as well as other athletes and performers (musicians, actors) looking to enhance their performance through mental skill development (Photo galleries: Aug, 2017 | May, 2018). Read about one of the participants' experience at  https://www.annedebutte.com/mastering-mental-game/
Contact us at 613-277-4402.
*******
If you are ready to listen, the conversation can begin! ~ We are excited to announce our NEW monthly Horse Meditation series!
Come see how the power of the horse can elevate your meditation experience. Let a horse touch your soul and truly see you without judgement and with unconditional love.
Beverages and snacks will follow the meditation as we share and explore what our experience meant to each of us.
The May, June, August and September sessions SOLD OUT! Hurry and register for the October 19 session! We are also putting on our creative hats to see how we can offer sessions for smaller groups in the warm barn in the winter – stay tuned!
Contact us at 613-277-4402 to register or for more details.
*******
Refund policy
Due to the costly non-refundable nature of reserving the venue and the limited spaces available in workshops, a cancellation made 30 days or less from the date of a workshop is non-refundable.  Should you cancel 48 hours or less from the date of your session, there will be an extra administration fee of $25 that will be donated to a horse rescue facility. Fifty percent (50%) of the workshop fee will be refunded for a cancellation made between 60 to 31 days prior to the workshop.  Any cancellation made 61 days prior to the workshop is fully refundable minus any processing fees.  Please note that should you need to cancel every effort will be made to apply any non-refunded amount to a future workshop.